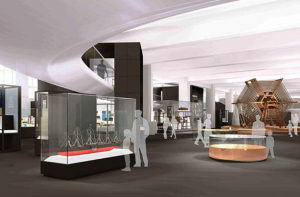 ARM is sponsoring Information Age a new gallery to be opened at the Science Museum on 25 October.
Using interactive displays and experiences, the gallery will reveal personal stories about how life has been transformed by communication innovations over the last two centuries.
Information Age will be divided into six zones, each representing a different information and communication technology network; The Cable, The Telephone Exchange, Broadcast, The Constellation, The Cell and The Web.
The gallery will explore the important events which shaped the development of these networks, from the dramatic stories behind the growth of the worldwide telegraph network in the 19th century, to the influence of mobile phones on our lives today.
Re-live remarkable moments in history, told through the eyes of those who invented, operated or were affected by the new wave of technology, from the first BBC radio broadcast in 1922 to the dawn of digital TV.
Discover how wireless technology enabled lives to be saved and news of the Titanic disaster to be spread to the world within hours of the event, and hear the personal stories of the operators who worked on the Enfield Telephone Exchange, the last manual exchange which marked the end of an era in communication history.