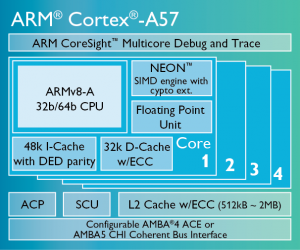 Cray is evaluating 64bit ARM processors alongside Intel products for its supercomputers, partly under a US Government program called FastForward 2 which asks the firm to explore 64bit ARMs for high performance computing (HPC).
Cray is also working with 64bit ARM chip company Cavium to build processing clusters based on Cavium's 48 ARM core ThunderX processors to test ARM architectures for supercomputing.
"Our adaptive supercomputing vision centres on system designs that integrate diverse processing technologies into a unified architecture," said Cray CTO Steve Scott. "We see alternatives such as 64bit ARM, custom ASICs and low-power Intel processors as enabling technologies for certain HPC and analytics workloads.
Cavium has been demonstrating ThunderX silicon at SC14 in New Orleans this week, including it running Red Hat Linux and Canonical Ubuntu Server Distribution operating systems, and Java 8 and Apache Web Server applications.