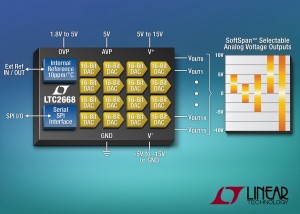 Linear Technology's latest 16-bit voltage output digital-to-analog converter (DAC) has 16 outputs which can be independently configured for one of five selectable unipolar and bipolar output ranges up to ±10V.
"Each rail-to-rail DAC output is capable of sourcing or sinking 10mA with guaranteed load regulation and is stable driving capacitive loads as large as 1000pF," said the supplier.
The LTC2668 DAC is designed for driving optical modules, programmable logic controllers (PLCs), MRI and X-ray imaging, automatic test equipment, laser etch equipment, spectrum analyzers and oscilloscopes.
The chip can be operated from a single 5V supply, or from dual bipolar supplies depending on the output voltage range requirement.
There is a precision 2.5V 10ppm/°C max reference on-chip to generate the five output ranges, or it can be driven with an external reference.
The LTC2668 also supports an A/B toggle function for generating an AC bias or for applying dither to a system.
Configuration of the LTC2668 is handled via an SPI-compatible serial interface which can be powered from an independent 1.8V to 5V digital supply.
The DC2025A evaluation board for the LTC2668 family is supported by the Linduino firmware development system, using the DC2026A.